Kate of
Scathingly Brilliant
recently posted an up-do using a braided headband. Us girls with short hair need all the inspiration we can get because there is only so much you can do with these locks! I've also seen DIYs around the blogosphere with faux flower headbands. While I would love to prance around with a huge flower garland on my head all day long, I don't know if I would have the guts to rock it in the real world. I tried to create a fusion of the two without getting too flowerchild-ish.
All you need are a few fake flowers and a stretchy fake hair braid. (I got mine at Sephora.)
Chop off as many flowers as you would like to add to your braid, leaving about 1.5-2" of stem. Here's why...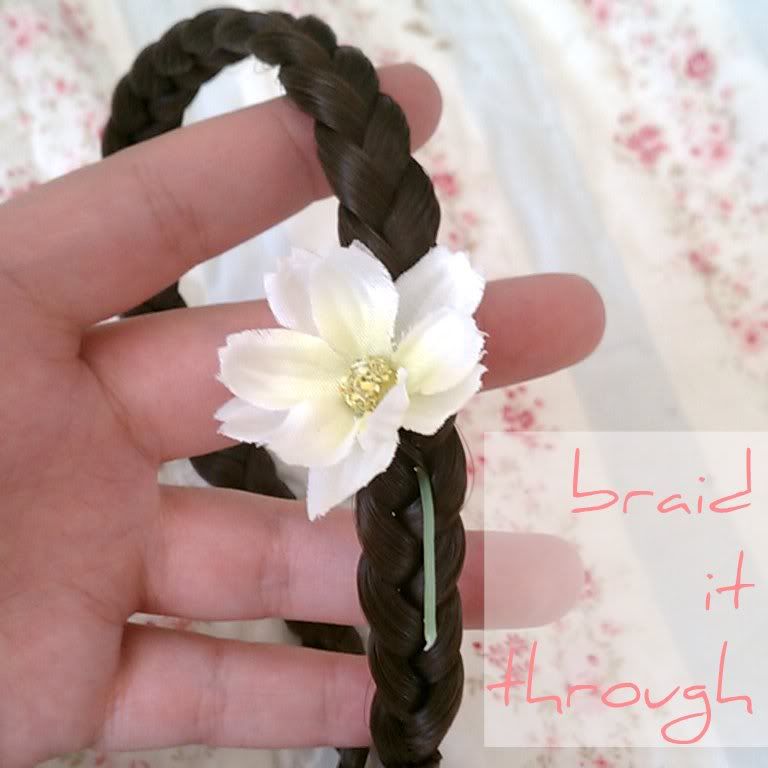 You're going to braid the stem through the braid. This picture is just to show you, but I pushed the remaining stem through so it wasn't showing so much, and for hold.
I added 4 flowers to mine. It was a nice little detail to add to a messy ponytail.
I like this DIY because it just adds a little something extra but you can always take the flowers out and revert back to your basic braided headband if the mood strikes.